Dismantling Hatred: Skills and Strategies You Can Use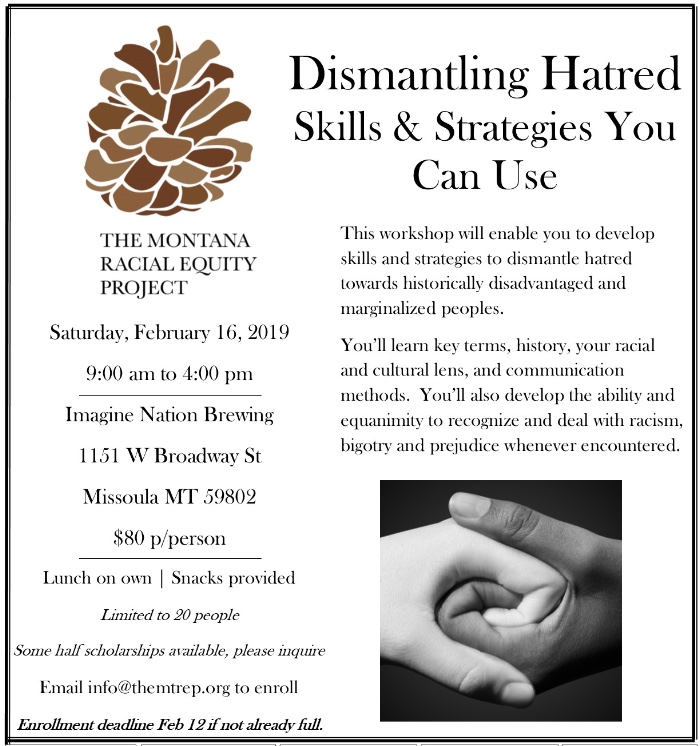 This workshop will enable you to develop skills and strategies to dismantle hatred towards historically disadvantaged and marginalized peoples. You'll learn key terms, history, your racial and cultural lens, and communication methods. You'll also develop the ability and equanimity to recognize and deal with racism, bigotry and prejudice whenever encountered.
*$80.00 per person
*Appropriate for age 15 and above.
*FIVE half scholarships are available. Contact info@themtrep.org to be approved and receive the promo code.
*Teachers attending this full workshop will receive 7 renewal units from the Montana OPI
*Bring your own lunch; Snacks provided. Beverages (kombucha, sparkling water, soft drinks, etc) will be available for purchase from Imagine Nation Brewing.
*Limited to 20 people. REGISTRATION DEADLINE is February 12th if not already fully booked.
*Contact info@themtrep.org to get on our waiting list if the workshop is already full.
*If you do not wish to register online please contact us to receive a registration form and instructions on how to enroll.
*NOTE - payments are non-refundable for any cancellations after February 12th if no one is available to fill the reserved slot.
Please email info@themtrep.org with any questions.
***Our thanks to the Social Justice Fund of the Montana Community Foundation in helping us to keep the cost of this workshop affordable!***