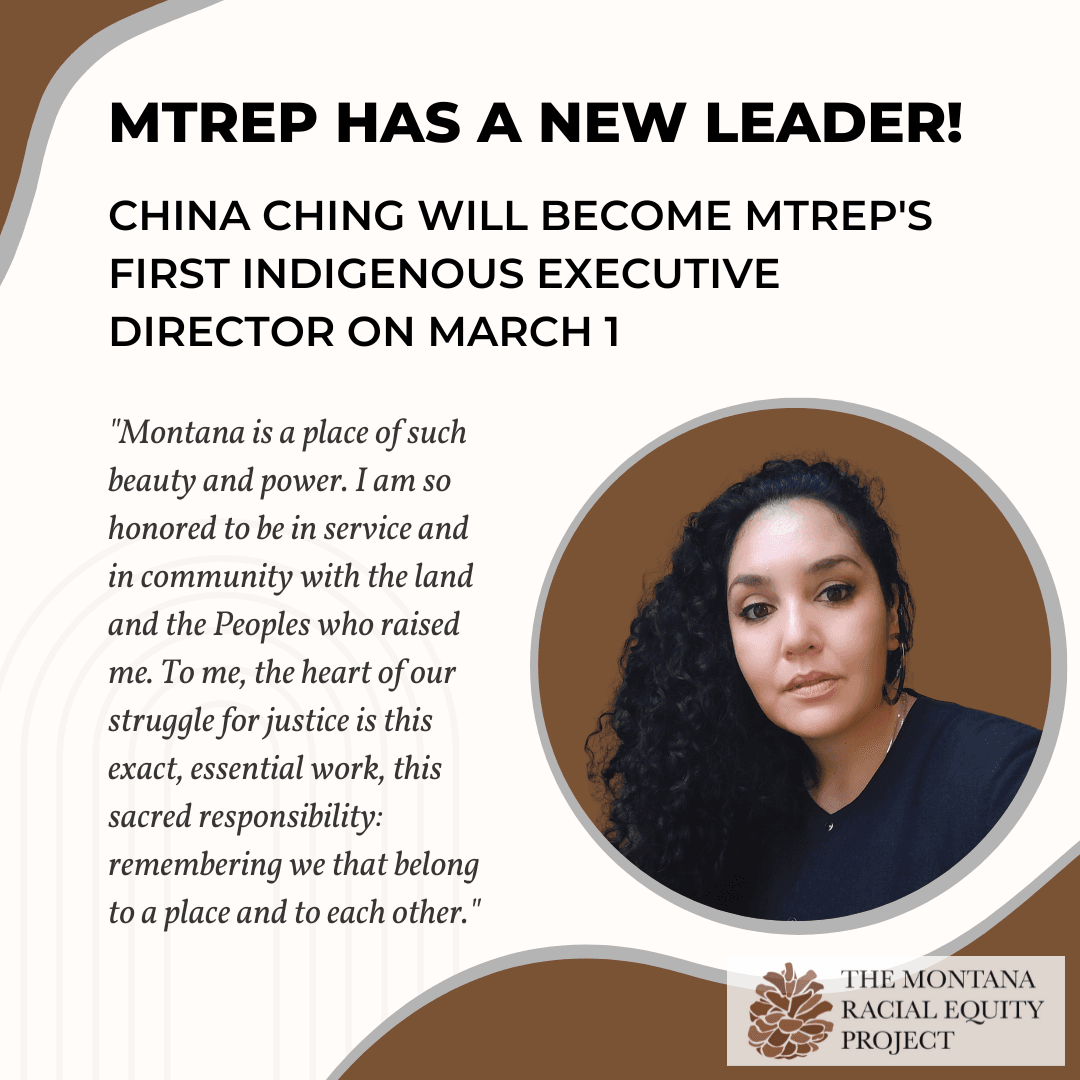 BOZEMAN, MT—The Board of Directors of The Montana Racial Equity Project (MTREP) is pleased to announce the appointment of China Ching (Native Hawaiian) as the new Executive Director. With a start date of March 1, 2023, China will be MTREP's first Indigenous Executive Director, continuing the organization's commitment to centering BIPOC leadership.
Throughout her career, China has focused on equity, justice, Indigenous rights and the building of community power and solidarity. She is currently a consultant specializing in organizational and leadership development, program strategy and the building of holistic organizational cultures.
China is the former Director of Programs at Christensen Fund, an international foundation working to support Indigenous Peoples in advancing their inherent rights, dignity, and self-determination. Born and raised in Montana, China obtained her M.A. in Oral History from Columbia University and her B.A. in Hispanic Studies from Connecticut College.
Heidi Jones-Magee, Board Chairperson, said,
"We are thrilled to welcome China as the new leader of our organization. She is a smart, strategic, and empathetic leader, and her experience working in a wide variety of communities will be an incredible asset to the organization and the entire state of Montana."
China looks forward to her new role, saying,
"Montana is a place of such beauty and power. I am so honored to be in service and in community with the land and the Peoples who raised me. To me, the heart of our struggle for justice is this exact, essential work, this sacred responsibility: remembering we that belong to a place and to each other."
The search for MTREP's new leader and interim staff support were both led by Morten Group, LLC, a national consulting firm based in Chicago.
As they prepare to welcome a new staff leader and launch an updated slate of programming, the Board of Directors is thankful to MTREP's staff and the interim team for their sustained and continued commitment to the organization's success.
About The Montana Racial Equity Project
The Montana Racial Equity Project, a nonprofit and nonpartisan organization, advocates equity and justice for historically marginalized, disenfranchised, and oppressed peoples in Montana. We educate, train, and activate organizers, individuals, groups, organizations, institutions, and businesses to invest in interrupting racism, bigotry, and prejudice whenever encountered.