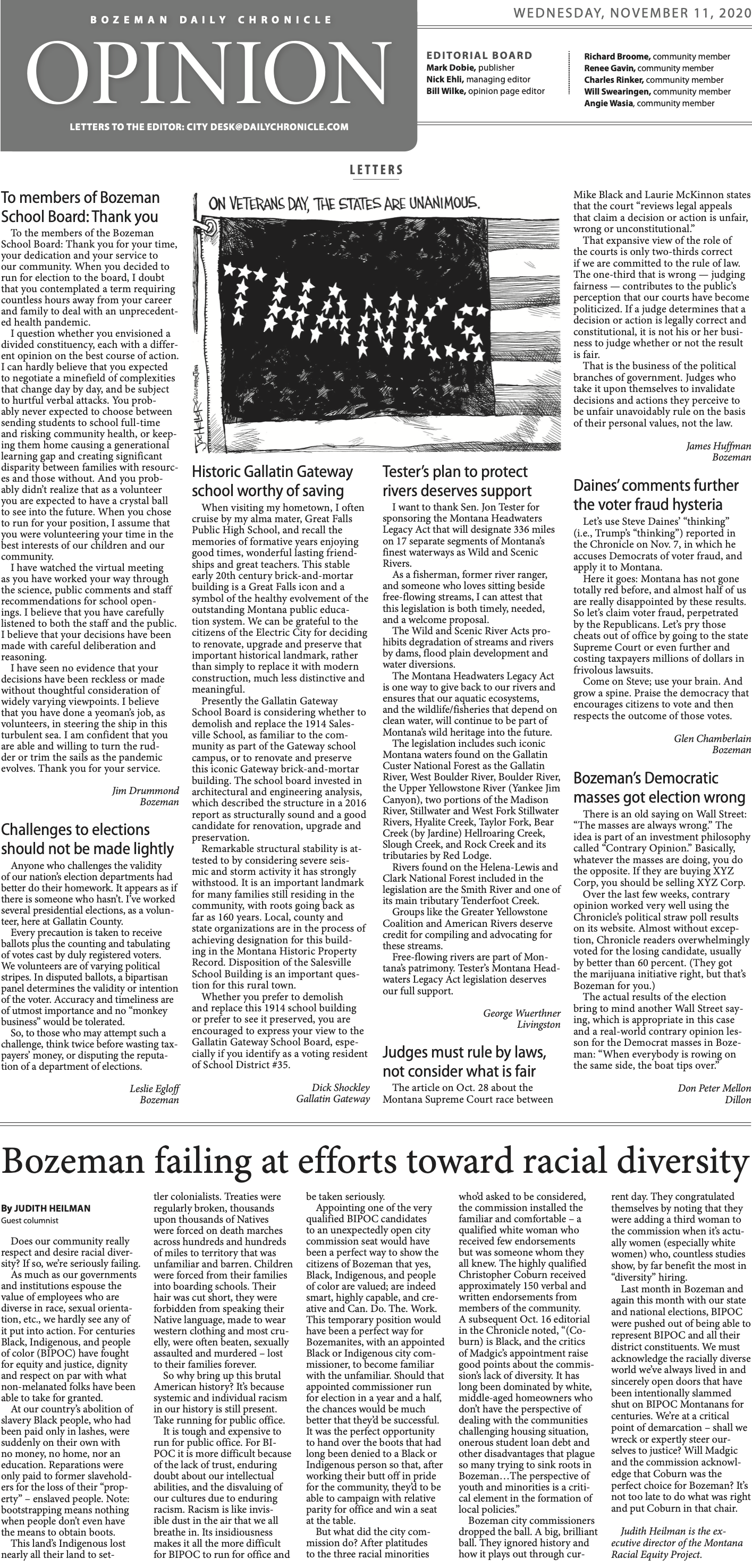 Does our community really respect and desire racial diversity? If so, we're seriously failing.
As much as our governments and institutions espouse the value of employees who are diverse in race, sexual orientation, etc., we hardly see any of it put into action. For centuries Black, Indigenous, and people of color (BIPOC) have fought for equity and justice, dignity and respect on par with what non-melanated folks have been able to take for granted.
At our country's abolition of slavery, black people, who had been paid only in lashes, were suddenly on their own with no money, no home, nor an education. Reparations were only paid to former slavehold- ers for the loss of their "property" – enslaved people. Note: bootstrapping means nothing when people don't even have the means to obtain boots.
This land's Indigenous lost nearly all their land to settler colonialists. Treaties were regularly broken, thousands upon thousands of Natives were forced on death marches across hundreds and hundreds of miles to territory that was unfamiliar and barren. Children were forced from their families into boarding schools. Their hair was cut short, they were forbidden from speaking their Native language, made to wear western clothing and most cru- elly, were often beaten, sexually assaulted and murdered – lost to their families forever.
So why bring up this brutal American history? It's because systemic and individual racism in our history is still present.
Take running for public office;
It is tough and expensive to run for public office. For BIPOC it is more difficult because of the lack of trust, enduring doubt about our intellectual abilities, and the disvaluing of our cultures due to enduring racism. Racism is like invisible dust in the air that we all breathe in. Its insidiousness makes it all the more difficult for BIPOC to run for office and be taken seriously. Appointing one of the very qualified BIPOC candidates to an unexpectedly open city commission seat would have been a perfect way to show the citizens of Bozeman that yes, Black, Indigenous, and people of color are valued; are indeed smart, highly capable, and creative and Can. Do. The. Work. This temporary position would have been a perfect way for Bozemanites, with an appointed Black or Indigenous city commissioner, to become familiar with the unfamiliar. Should that appointed commissioner run for election in a year and a half, the chances would be much better that they'd be successful. It was the perfect opportunity to hand over the boots that had long been denied to a Black or Indigenous person so that, after working their butt off in pride for the community, they'd to be able to campaign with relative parity for office and win a seat at the table.
But what did the city commission do? After platitudes to the three racial minorities who'd asked to be considered, the commission installed the familiar and comfortable – a qualified white woman who received few endorsements
but was someone whom they all knew. The highly qualified Christopher Coburn received approximately 150 verbal and written endorsements from members of the community.
A subsequent Oct. 16 editorial in the Chronicle noted, "(Coburn) is Black, and the critics of Madgic's appointment raise good points about the commission's lack of diversity. It has long been dominated by white, middle-aged homeowners who don't have the perspective of dealing with the communities challenging housing situation, onerous student loan debt and other disadvantages that plague so many trying to sink roots in Bozeman...The perspective of youth and minorities is a critical element in the formation of local policies."
Bozeman city commissioners dropped the ball. A big, brilliant ball. They ignored history and how it plays out through current day. They congratulated themselves by noting that they were adding a third woman to the commission when it's actually women (especially white women) who, countless studies show, by far benefit the most in "diversity" hiring.
Last month in Bozeman and again this month with our state and national elections, BIPOC were pushed out of being able to represent BIPOC and all their district constituents. We must acknowledge the racially diverse world we've always lived in and sincerely open doors that have been intentionally slammed shut on BIPOC Montanans for centuries. We're at a critical point of demarcation – shall we wreck or expertly steer our- selves to justice? Will Madgic and the commission acknowledge that Coburn was the perfect choice for Bozeman? It's not too late to do what was right and put Coburn in that chair.