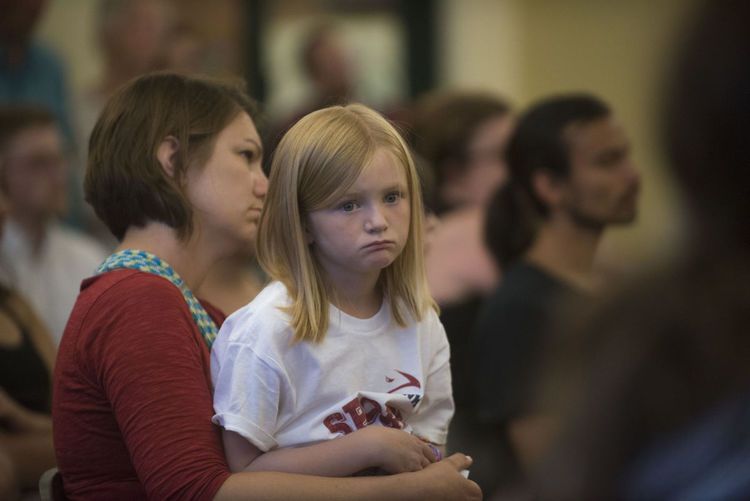 Following a week of high-profile shootings, ones that left two black men dead at the hands of police and five officers killed by a sniper, a group of a few dozen in Bozeman gathered to talk about racism, justice and where to go from here.
"I've been crying for three days," said Judith Heilman with the Montana Racial Equity Project on Friday night at a vigil at the Bozeman Public Library. "This just can't happen."
The vigil came at the end of a week that included the shooting death of Alton Sterling, a 37-year-old black man, by Baton Rouge Police in Louisiana on Tuesday, the killing of 32-year-old Philandro Castile, also black, by an officer in a Minneapolis suburb, and the shooting deaths of Patrick Zamarripa, Michael Krol, Loren Ahrens and Michael Smith with the Dallas Police Department, and Brent Thompson, a Dallas Area Rapid Transit officer, by a sniper on Thursday night.
Opening the vigil, Heilman, a black woman who worked as a police officer in California, said she had a unique perspective on these and other shootings.
"Racial equity and justice in our nation have a long, long way to go," Heilman told the crowd.
Heilman's husband John said that this week's killings make it easy to pick sides, but that "doing so would only continue the process that led to the deaths of these men."
"If we move forward with love, power and justice," he said, "we then can build a fitting memorial for (the victims.)"
Bozeman Police Chief Steve Crawford, a black band across the badge attached to his belt, extended thoughts and prayers to the families of all who have been lost in shootings, especially this week.
"We're all in mourning," Crawford said.
Crawford said it is a tough time for the policing profession, saying deadly use of force incidents nationwide have an impact on officers everywhere.
"It's a very complex issue," Crawford said. "And it's not just a policing issue, it's a societal issue."
Bozeman City Commissioner Chris Mehl urged the crowd to hold city, state and federal governments accountable when they see injustices.
Connect with the Chronicle on Facebook for the latest news, links and more.
"What we need is not hatred. We don't need violence. We don't need lawlessness," Mehl said. "We must carry on."
Behind the podium where speakers talked, a white board was adorned with messages.
"We share your grief."
"#DallasStrong."
"#BlackLivesMatter."
And "love," with a heart drawn around it.